Blog
Working Abroad – Linehub is connecting across borders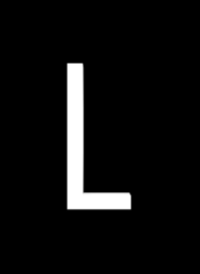 Last Updated
October 16, 2023
In recent years, it has become clear to us how much we cherish social interactions and personal connections, not only in our personal lives but also with our colleagues. As we adapt to virtual workspaces from our living rooms, and some have the luxury of a home office, we have become aware of the loss of spontaneity and face-to-face collaboration. In this context, Linehub has developed an innovative approach to restore and, most importantly, strengthen the connections among international colleagues.
A new dimension of collaboration – connecting across borders!
With its diverse labels and multiple offices spread across Europe, Linehub possesses a wealth of international cultures and perspectives. Working abroad not only offers the opportunity to better understand this diversity but also elevates collaboration among international colleagues to a higher level. This bold step and investment not only enhances team dynamics but also fosters innovation by merging unique ideas and approaches.
"The 'working abroad' project made me realize and feel that I am part of something bigger than the team I work with. That we all operate and think differently, yet work towards the same goal. It was inspiring and enjoyable to carry out your daily work in a different place with new people whom you normally only communicate with via Slack. I recommend it to all my colleagues!" Julieta – Partner Manager – Daisycon Belgium – From Antwerp (BE) to Aarhus (DK)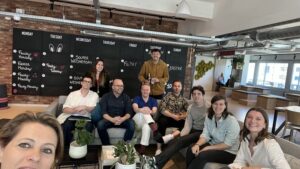 The pilot phase of Working Abroad at Linehub provided immediate evidence of the value of this approach. As many as twenty international colleagues from different labels had the opportunity to work from another office for a week, in a country of their choice, with the mission of 'knowledge sharing'. From charming Aarhus to bustling Antwerp, from historic Bucharest to picturesque Oldenburg, and from trendy Stockholm to modern Almere, borders were literally crossed.
An additional aspect was also present – colleagues were allowed to bring a 'plus one' (partner or friend), and Linehub covered the full cost of this experience. The combination of professional development and personal enjoyment created a unique environment for learning, growth, and, above all, connection.
"Thanks to Linehub, I had the opportunity to get to know Stockholm and our Linehub colleagues working there. I could even share this experience with my partner who came along. I truly connected with our Swedish colleagues and enjoyed the Swedish culture, for which I am very grateful to Linehub." Luca – Partner Manager – Daisycon Belgium – From Antwerp (BE) to Stockholm (SE)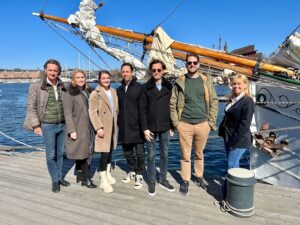 Positive outcomes and future prospects
All participating colleagues reported a highly positive and productive experience during their week abroad. They immersed themselves in new cultures, enriched their perspectives, and strengthened their bonds with international colleagues. These positive outcomes point to a promising future for collaboration and connection abroad at Linehub.
This process has expanded our understanding and broadened our horizons. By gaining deeper insights into international cultures, market trends, and business dynamics, we are now better equipped to support our partners in their global ambitions. Our enhanced international mindset enables us to communicate more effectively, develop strategies that cater to diverse market needs, and find innovative solutions that resonate on a global scale.
Furthermore, acquiring knowledge has helped us discover how the variety of services within Linehub can serve as a valuable complement to certain brands. By carefully analyzing where needs lie and what opportunities exist, we can provide more targeted advice and customized solutions. This approach not only strengthens our position as reliable partners but also as a vibrant source of expertise and creativity.
"The opportunity to work abroad in another Linehub office for a week is of great value to me. Not only can I explore a city as a citizen for a week, but most importantly, I can truly connect with my colleagues and create memories together that will strengthen our relationship in both a professional and personal way. Ultimately, we work better together when we share the same experiences and can simply laugh with each other." Ronnie – Director of Business Operations – Affiliprint BENELUX – From Almere (NL) to Stockholm (SE)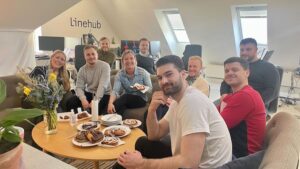 The ability to apply relevant knowledge to specific situations gives us a competitive advantage and enables us to proactively anticipate the needs of our partners and the rapidly changing market dynamics. The result is a strengthened synergy between Linehub and the brands we collaborate with, as well as a resilient and responsive approach to adding value.
In summary, the acquisition and sharing of knowledge have become a key component of our business strategy. It has not only reinforced our international vision but also increased our capacity to identify and implement the right services, allowing us to fulfill our role as strategic partners even better.
Sidenote: In addition to enriching our travels with new experiences, we have also enriched the environment. Each trip was accompanied by the planting of a tree.