Legal Matters
Privacy, cookies and disclaimer
We understand that our visitors, advertisers and publishers find their privacy very valuable. We therefore adhere to the applicable laws and regulations, so you can be sure that we will handle your personal information with care.
Jump to:
Privacy by design within Linehub
We are convinced that the behavior of people is the most important part of security. Our employees are well informed about what is and is not permitted when it comes to the processing of data. There are guidelines and there is a separate policy for incoming data. In addition, there is a safety and escalation protocol. Our data policy is regularly brought to the attention of all colleagues and is also an integral part of our personnel handbook. A legal and compliance officer is responsible for the above mentioned policy.
A second essential part of our data security is that we store as little sensitive data as possible (privacy by design). For our client interfaces, we have an advanced rights system, which means that only authorized personnel of a certain level can access certain transactional data. Where applicable, we conclude separate processor agreements with our customers and suppliers.
Do you want to know more about how Linehub handles your data or do you want us to delete your data? Then feel free to contact us via [email protected].
ISO/IEC 27001: data security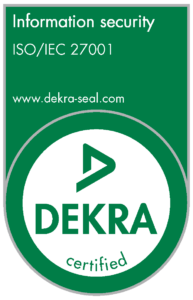 Linehub and its labels strive to achieve the best security of our systems, it has therefore obtained the ISO 27001 certification. This internationally recognized certification confirms that Linehub meets all the requirements of an information security management system and that it meets internationally recognized best practices for information security management.
The certification is applicable for Linehub and its labels Affiliprint, Basebuilder, Conversive and Daisycon. The certificate is available for download.
If you are in need of a customized Statement of Applicability, please request this via email. Make sure to include the following details in your request: Full name, job title, company name, the reason for your request.
To continually uphold security measures, we work together with professional data security companies. In addition to the regular checks by our own technical department, we regularly conduct so-called penetration tests. We also have standard control processes for the use of new software. This ensures that, in between penetration tests, only secure software is used. Our servers are managed at separate locations in the Netherlands by external hosting providers. These providers are ISO 9001 and ISO 27001 certified.
Cookies
Analysis Website
On this website we use an analysis tool (Google Analytics) that uses cookies to measure how many visitors come to this website and which pages they visit. The data is not used for any other purpose than improving the website. This data is not shared with third parties and is, within Linehub, only available to a limited number of people who are involved in optimizing this website.
The cookies do not contain data that can be traced to people. As a result, these so-called "Analytic cookies" fall under the exception in the Dutch Telecommunications Act, thus no prior permission is required to place these cookies.
Functional and the storage of data
On this website visitors have several options to interact. For example, they can fill in a contact form, subscribe to the newsletter or interact with a chatbot. Linehub uses the services of Hubspot for these and will process your personal contact details. We save this information for a maximum of 12 months after you have sent the contact form to us. Data is stored securely and it will be treated confidentially. We can, however, use your contact details to contact you. Data will not be shared outside the organization. In order to detect abuse, part of the IP address is stored in some cases. Before sending a form, a Google Recaptha notice may appear, which operates with (a) cookie(s).
For design purposes Google Fonts may be used on (parts of) this website. For the embedding of video content, we may use the services of either YouTube or Vimeo. Parts of this website may be offered in different languages. To enable this, the app Polylang is used. 
Marketing cookies
Linehub may use the services of Hubspot to track activity on the website. This information is used to optimize the website and service delivery of commercial teams within the organization. To find out more about the privacy policy from Hubspot, we refer to their website. Visitors may arrive on the website via an ad placed on a social network (e.g. Linkedin, Facebook or Instagram) or on a search engine (e.g. Google). This may be identified using (third-party) cookies.
The services of Quantcast are used to determine visitor behaviour. We refer to their website for more information on this.
List of (functional) cookies on our website
Purpose: Behavioural analysis, contact forms.
Posted by: Hubspot
Type: Functional, tracking and analytic cookies
Cookie time: Differs, depending on the cookie
Information: more info on Hubspot cookies
Purpose: To measure how long someone is on the site so that other functionalities can be used.
Posted by: Linehub
Type: Functional cookie (Essential for the operation of the website).
Cookie time: 3 hours
Purpose: To identify secure web traffic with the Cloudflare service.
Posted by: Cloudflare
Type: Functional cookie (Essential for the safety of the website).
Cookie time: 30 days
Purpose: Website statistics
Posted by: Google
Type: Google Analytics
Cookie time: 2 years
Purpose: Website statistics
Posted by: Google
Type: Google Analytics
Cookie time: 30 minutes
Purpose: Website statistics
Posted by: Google
Type: Google Analytics
Cookie time: End of session
Purpose: Website statistics
Posted by: Google
Type: Google Analytics
Cookie time: 2 years
Purpose: Website statistics
Posted by: Google
Type: Google Analytics
Cookie time: 6 months
Disclaimer
This disclaimer applies to all websites, documents and email messages from Linehub and affiliated companies that abide by this disclaimer.
Websites
All rights of intellectual property concerning the materials belong to Linehub or its subsidiaries, must be accepted to the contrary. Without explicitly announced permission from us it is not allowed to copy any material that is provided on the website in any way, followed by reuse, unless we have explicitly indicated this with the material.
Content of the website
We limit care for the reliability and topicality of all published data. However, inaccuracies can occur. Linehub, like our subsidiary companies, partners and suppliers, are not liable for damage caused by inaccuracies, problems caused by, or problems inherent in the request for information via this website or via other media on the internet, mandatory technical Disruptions.
No rights can be derived in any way from the information on the website.
Changes to the website
We reserve the right to change the information at any time without having to communicate in advance afterwards.
Documentation
Content of the documentation: The information in our documentation is intended as non-binding and not as a concrete offer to conclude an agreement. We ensure that the topicality of all published data is guaranteed. However, inaccuracies can occur. Linehub, just like its subsidiaries, partners and suppliers, are not liable for damage caused by inaccuracies, problems caused by or problems inherent in the request of this information.
Use of materials from the documentation
All rights of intellectual property concerning these materials belong to Linehub. Copying, directing and any other use of these materials is not permitted without our permission, unless we have indicated this with specific materials.
Email
Email messages can display confidential information. These messages are intended exclusively for the addressee. If you receive a message by mistake, we request that you contact us immediately and destroy any prints made of the message. If the email is not addressed to you, it is not permitted to use the message and the recorded information contained therein, to copy from to reveal. Email messages are for information only, no rights can be derived from the content of the message, unless the contrary clearly follows from the message.